$1,000 - Civil War Trust/American Battlefield Trust
The CWT/ABT is America's largest non-profit organization devoted to the preservation of our nation's endangered battlefields. It has saved over 50,000 acres. The Trust also promotes educational programs and heritage tourism initiatives to inform the public of the war's history. The CWDF has conducted several programs for the Trust's annual conferences and teacher institutes and the CWDF was named the Trust's Reenactment Unit of the Year in 2011. This $1,000 donation will continue our designation as a member of the CWT's "Color Bearers" donor group.
Website: www.battlefields.org.


$1,000 – Cedar Creek Battlefield Foundation
With the cancellation of the Cedar Creek Reenactment in 2018 due to concerns for the safety of visitors and reenactors, the CCBF has lost a large portion of its funding to preserve the battlefield. The Heater House, located on the battlefield, is in need of restoration and the CWDF donation will help with this project. The CWDF has conducted balls at the battle reenactment in the past and has assisted with programming at Belle Grove Plantation.
Website: http://www.ccbf.us/.
$1,000 – Pennsylvania State Archives
Our donation to the Archives will be used to conserve Confederate General McCausland's order to spare Reverend Kennedy's house next to the Falling Springs Presbyterian Church during the burning of Chambersburg. The document, dated July 29, 1864, has excellent provenance, being donated to the State Museum in 1938 by the Reverend Kennedy's daughter in law. The piece was displayed in 2014 to commemorate the 150 anniversary which was when State Archives staff realized its dire condition. For several years, the CWDF has conducted a ball as part of the commemoration of the Chambersburg Raid.
Website: https://www.phmc.pa.gov/Archives/Pages/default.aspx
Preserving Our Heritage
The CWDF/VDE uses the proceeds from its performances and sales of its dance instruction DVD to support various historic preservation and education programs. We have also donated thousands of dollars in services and thousands of hours of volunteer time. Through 2018, the CWDF has made direct cash donations of over $60,000. When combined with fund-raising balls and events we conducted for other organizations, we have now helped to raise over $280,000!
$3,000 Donated by CWDF for Preservation in 2018
The Civil War Dance Foundation donated $3,000 to three organizations for Civil War preservation projects in 2018. This year's donations were:
Abraham Lincoln Presidential Library and Museum
Alliance to Preserve the Civil War Defenses of Washington
Antietam National Battlefield*
Baltimore & Ohio Railroad Museum – Roundhouse Restoration Fund
Beauvoir, Jefferson Davis Home – Hurricane Restoration Fund*
Belle Grove Plantation
Boy Scout Venture Crew 1861 Fife and Drum Corps
Camp Curtin Historical Society *
Cedar Creek Battlefield Foundation
Center for Civil War Photography
Central Virginia Battlefields Trust
Civil War and Underground Railroad Museum of Philadelphia
Civil War Trust *
Adopt a Class Room Program
Land Acquisition
Traveling Educational Trunk Program
Col. Harry Gilmor Camp, Sons of Confederate Veterans,
Adopt a Confederate Grave Project
Cooper's Battery Monument Project
Dauphin County Historical Society
Dr. Patri Pugliese Scholarship Fund
Eckley Miners Village - Breaker Project
Eli Slifer House
Friends of the Monterey Pass Battlefield, Inc.
Ford's Theatre Society
George Meade Society – Scholarship Fund
Gettysburg Battlefield Preservation Association
Gettysburg Foundation*
Gettysburg National Military Park*
Harpers Ferry National Historical Park*
Hampton Mansion National Historic Site*
Historic Yellow Springs
Jerusalem Mill Preservation Project
Joseph Junkin Homestead
Ladies of the Grand Army of the Republic Museum
Liberia Plantation House Restoration
Lincoln Fellowship of Pennsylvania – Essay Contest
Lincoln Home National Historic Site
Longstreet Society
Maryland Historical Society
Monocacy National Battlefield *
Moores Memorial Library -- Christiana Riot Material Archive
Museum of the Confederacy*
National Civil War Museum
National Museum of Civil War Medicine
Patapsco Female Institute Historic Site
Pennsylvania Capitol Preservation Committee – Civil War Flag Project
Pennsylvania Muster Rolls Restoration Project
Pennsylvania State Archives
President Lincoln's Cottage
Red Mill Museum
Save Historic Arlington House
Sons of Union Veterans Hartranft Camp No. 15
Star Spangled Banner House
Stonewall Jackson Headquarters in Winchester, Va.
U.S.S. Constellation
Wilderness Battlefield – Ellwood House Project
Winchester Old Court House Museum
Our direct donations over the years have been given to:
* Multiple donations over the years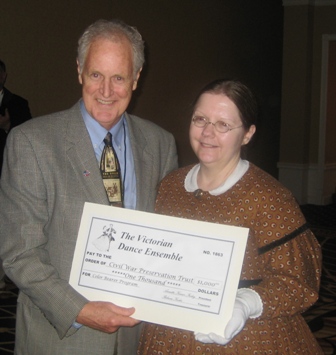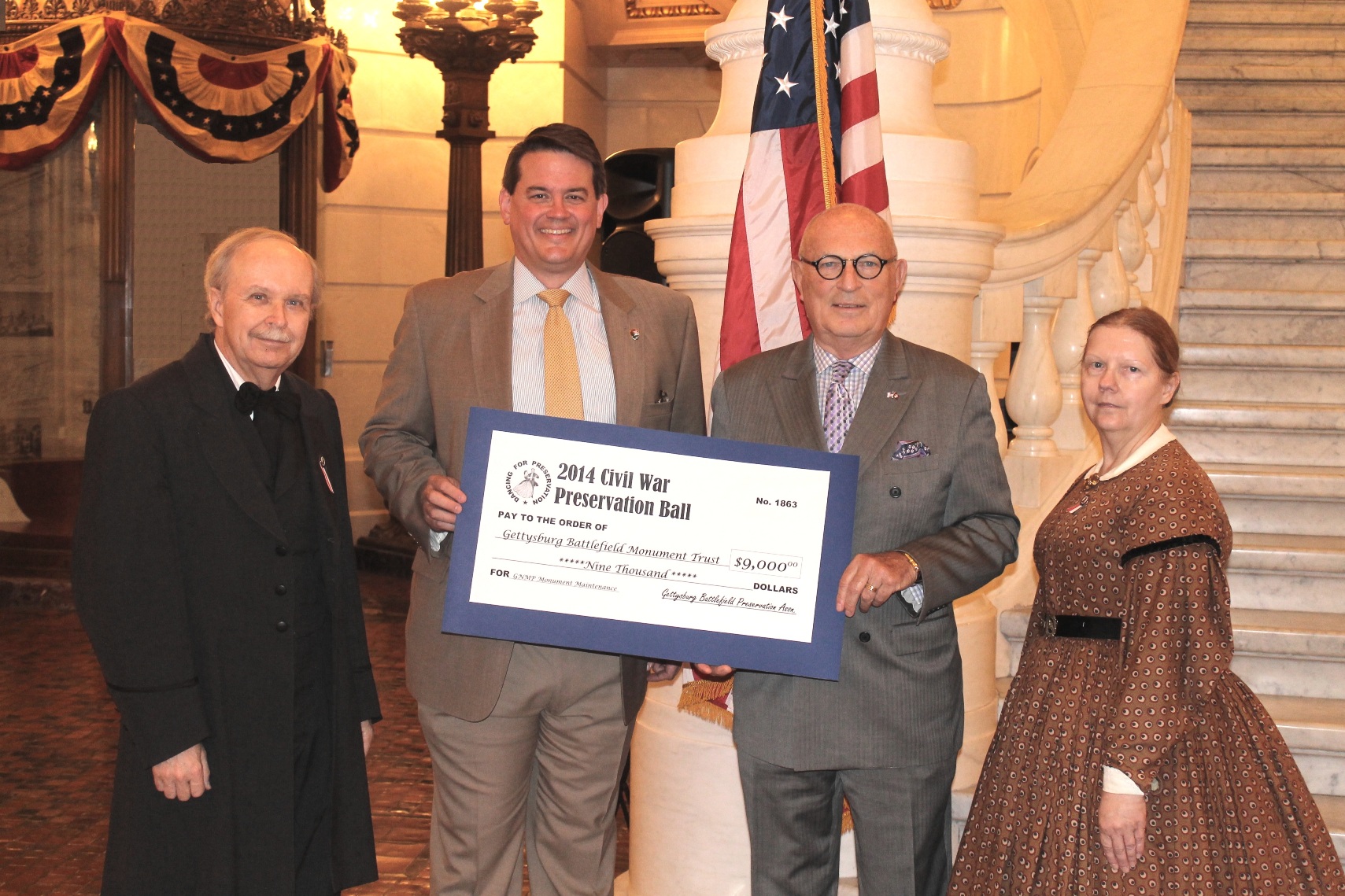 Jim Lighthizer. President of the Civil War Trust, accepting a donation from CWDF President Annette Keener-Farley. Over the years, the CWDF has donated over $14,500 to various CWT projects.
The CWDF donated money to the Camp Curtin Historical Society for the erection of the Gen. Albert Jenkins Monument in Mechanicsburg, Pa., marking the northernmost advance of the Confederate Army during the Gettysburg Campaign.
Gettysburg National Military Park Superintendent Ed Clark (second from left) accepts a check from VDE Dance Master Larry Keener-Farley, State Repre- sentative Harry Readshaw and CWDF President Annette Keener-Farley. The CWDF has supported the Pennsylvania Gettysburg Monuments Project (popularly known as "Readshaw's Raiders") since its founding by conducting fund-raising dance classes and balls. Over the years, these events have raised over $100,000 for the restoration of monuments at the Gettysburg National Military Park.